Yam and Quinoa Waffles are a tasty and power packed breakfast. A good use of left over yams or quinoa, they can be whipped up and stored in the freezer for a quick morning start from the toaster. Fiber, protein, antioxidants, and flavor are loaded into these beauties. Serve with fresh fruit or your favorite topping.
½ Cup baked yam, mashed
½ Cup cooked quinoa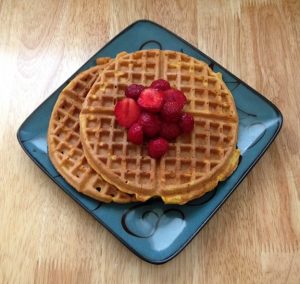 ½ Cup soymilk
1 Cup non-fat yogurt
3 Tbsp. sugar
3 Yolks     (3 whites separated, set aside)
1 tsp. orange zest
1 Cup whole wheat flour
1/3 Cup oat bran
½ tsp. salt
2 tsp. baking powder
1/8 tsp. nutmeg
Preheat your waffle iron. Fill a blender with the mashed yams, quinoa, soymilk, yogurt, yolks, and zest. Blend until smooth. In a separate bowl combine sugar, flour, oat bran, salt, baking powder, and nutmeg. Whip egg whites until stiff. Fold wet ingredients from the blender into the whipped egg whites. Add dry ingredients slowly, whisking until smooth. Heat waffle iron and pour one half to two thirds cup batter. Makes 6 waffles. Cooked waffles freeze well.