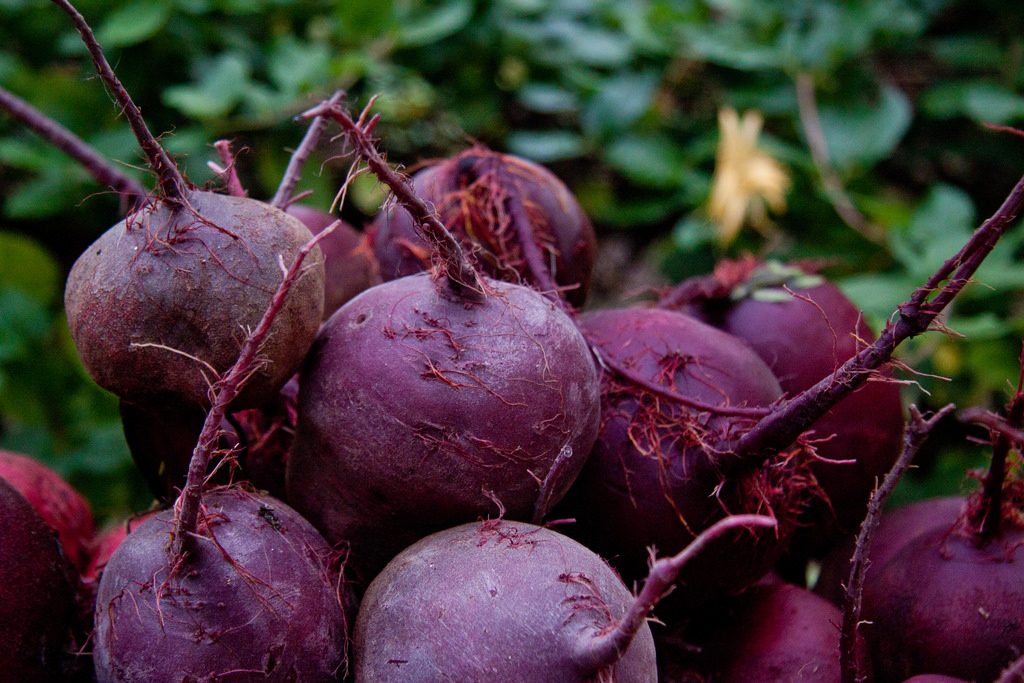 From the Moosewood Cookbook – A seven vegetable soup to give you all your servings of veggies in one dish. Celebrating winter produce season in a rich, red way.
2 Tbsp. olive oil
1 1/2 C. chopped onion
1 1/2 C. thinly sliced red potatoes 
1 C. thinly sliced beets
1 Sliced thin large carrot
1 Stalk chopped celery
3 C. chopped green or purple cabbage
1 Scant tsp. caraway seeds
4 C. vegetable stock
1 Tbsp. raisins
2 tsp. salt
Black pepper
1/2 tsp dill weed
1 Tbsp. + 1 tsp. cider vinegar
1 Tbsp. + 1tsp. honey
1 C. tomato puree
Place the beets and potatoes in the vegetable stock and cook until tender. Save the cooking liquid.
While the beets and potatoes cook, sauté in a large soup pot the onions in the olive oil until just becoming translucent, then add the caraway seeds and salt. Cook until you smell the caraway, then add celery, carrots, and cabbage.  Add beet & potato liquid, cook all until soft. Add beets and potatoes. Then add the rest of the ingredients. 
Cover and simmer slowly for at least 30 minutes. Taste to correct seasonings. When cooled, use a blender to puree.
I like it hot with a couple tablespoons of non-fat yogurt, chopped fresh tomatoes, and cuts of fresh dill weed.  In summer it's a great cold beverage when thinned and garnished with dill sprigs and lemon wedges.