Steel Cut Oats Pudding Porridge is a delicious, healthy, protein rich, hot breakfast cereal mimicking riced pudding with it's it nutty, chewy oat pieces and stewed fruit sweetness. Make ahead in big batches and heat individual portions in the microwave for a fast, tasty, nutritious breakfast.
1 Cup steel cut oats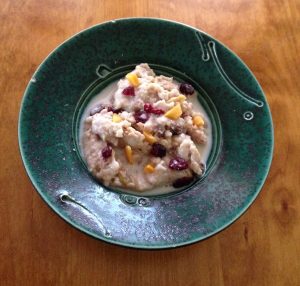 1/3 Cup oat bran
4 Cups vanilla soymilk
1 Cup water
1/3 Cup raisins
1/3 Cup Craisins
1/3 Cup chopped, dried mangoes or dried apricots
Heat soymilk and water together in medium sized pan on the stove. When simmering stir in steel cut oats and oat bran. Next add in your dried fruits. Cook for thirty minutes, stirring occasionally. Make ahead. Lasts for a week in the refrigerator.  Add honey and more soy milk, if you wish, when serving.
Makes one and a half quarts of porridge.