Persimmon, Goat Cheese, Hazelnut Salad with Balsamic Vinegar
With fall come persimmons. Choose firm ones with flat tops. They will ripen in one to two weeks depending on the warmth of your kitchen. Store on the counter until a thumbprint depresses the fruit slightly. Bright Orange, smooth skinned fruit with a delicate sweet taste complimented by the tang of goat cheese and the rich crunch of toasted hazelnuts in a salad drizzled with balsamic vinegar, wrangles the flavors together with a finishing punch to the tastebuds.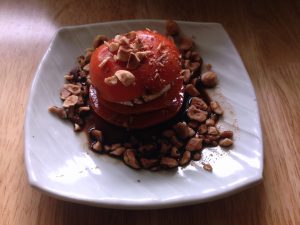 4 ripe persimmons, sliced horizontally, in 1/4 inch thick rounds
Two logs of plain goat cheese, sliced into thin rounds (with unflavored dental floss or quilting thread)
One cup of toasted hazelnuts, roughly chopped
One quarter cup balsamic vinegar
Lay out all sliced ingredients on a sheet pan. On four small plates stack a persimmon slice with a goat cheese slice on top. Stack two more of these "sandwiches" on top of the first so you have a little tower of persimmon slices layered with goat cheese in between. Sprinkle the hazelnuts generously over the towers and drizzle balsamic vinegar over it all. Makes four servings
Note:The floss and thread make slicing goat cheese easy. A knife blade will crumble and distort it. You can prep the ingredients the day before and wait to assemble them at the point of service. Refrigerate the persimmons and goat cheese slices, covered in the refrigerator.