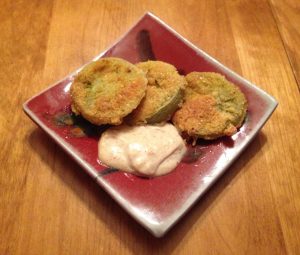 FRIED GREEN TOMATOES    Serves four as a side dish
Four green tomatoes, three to four inches in diameter, sliced 3/8 inches thick, discard top and round end
¾ C. flour
1/8 tsp. nutmeg
1/8 tsp. white pepper
¼ tsp. salt
1 C. breadcrumbs
1 egg with 1 Tbsp. water, whisked smooth or ½ C. soymilk for dipping mixture
3 Tbsp. Olive Oil
In a wide bowl, which can accommodate a slice of your tomato, mix flour, nutmeg, white pepper, and salt together with a wire whisk, set aside.
Plate the breadcrumbs. Whisk the egg with water (or pour the soymilk) into a dish big enough for your slices of tomato.
Arrange your dipping mixture, flour, and breadcrumbs in a triangle. Place a large empty sheet pan near your arrangement. Assemble the tomato slices in piles on the sheet pan, leaving enough room at the bottom to accommodate your crusted slices as they are coated.
Procedure – with a fork, spear a tomato slice, and dip in the egg (or soymilk), then place it in the flour, coating it thoroughly. Immerse into the egg (or soymilk) again, completely wetting it. Now dip it into the breadcrumbs coating it completely. Lay it back on the cookie sheet. Coat all slices.
To Cook
Heat the olive oil in a large fry pan, until just about shimmering. Lay in your tomato slices to fill it up, but don't crowd. Cook on medium low for 4 minutes and then flip with a tong or fork. They should be golden brown on the bottom. A spatula will scrap off your uncooked coating; so don't use it until the end. Cook the other side for four or five more minutes. Remove and place on a rack. The cooked green tomatoes can be on a rack over a sheet pan in a 175 F. oven until served, up to an hour.
CORIANDER AND CUMIN SAUCE     Makes one cup
½ tsp. ground cumin
¼ tsp. coriander
Dash of salt
2 garlic cloves put through a garlic press
¾ C. mayonnaise or Vegan Nayonaise
¼ C. low-fat plain yogurt
Heat a dry skillet on low heat and throw in the cumin and coriander. Stir with a metal spatula until the spices are fragrant. DO NOT BURN. Set aside and mix the mayonnaise (or Nayonaise) with the yogurt. Add the garlic, salt, and spices. This is best made in the morning before serving or the day ahead to marry the flavors. Lasts a week in the refrigerator.