PEANUT SAUCE
Fry to crisp, do not burn: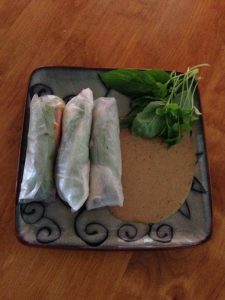 2 T. peanut oil
3/4 C. onion finely, chopped
3 cloves garlic, chopped
When golden brown, set aside.
In a sauce pan heat:
1 C. coconut milk
3/4 C. smooth peanut butter
3 garlic cloves pressed
When above is well combined, add:
3 Tbsp. grated fresh ginger
2 Tbsp. chopped basil
The juice of one lime
2 Tbsp. soy sauce
3 T. brown sugar
You may need to add water if it's too thick, as peanut butter brands vary in consistency.
Stir constantly on low heat until hot. Keep it from bubbling. When cool place in a blender to smooth all ingredients. Best made a day ahead to marry flavors. Stays fresh for two weeks in the refrigerator.
FRESH ROLLS
Require a lot of prep, which can be done the day before and stored in containers in the refrigerator. Fry up the tofu the day of making.
1Package of rice flour, spring roll wrappers
2 C. cooked rice noodles, set aside
1 Cucumber peeled, seeded, and cut into three-inch matchsticks
1 Carrot, cleaned, and cut into three-inch matchsticks
1 Head of romaine lettuce, cleaned, leaves separated and plated
1 Bunch green onion tops, cut into three inch lengths
½ Block of tofu, sliced into ½ inch x ½ inch x 3 inch slices
2 Tbsp. peanut oil
1 Small bunch bunch cilantro, pinched tops with leaves
1 Small bunch basil, leaves separated from stems
After cooking the rice noodles, which takes only a few minutes, fry up the tofu strips in the peanut oil, until lightly brown.
Set aside a plate for rolling the rice papers. Assemble the vegetables, tofu, and herbs nearby.
Fill a wide sauté pan, with the dimensions for your rice papers, with water. Heat until warm.
Procedure:
Drag rice wrapper though warm water. Place on plate. Near the top edge, with an inch of rice paper exposed, place romaine leaf, then a large pinch of rice noodles, three cucumber strips, three carrot strips, one green onion, a strip of fried tofu, two pieces cilantro, and three basil leaves.
Fold sides in, fold nearest edge to vegetables over, and roll the package to the end of the rice paper. Trala! A Fresh Roll!
When all have been assembled, spray with water and cover. Lasts six hours in the refrigerator.
To serve, heat peanut sauce gently. Pool a generous amount and place five fresh rolls nearby. Garnish with small sprigs of cilantro and basil, or a slice of lime.