Now is the time to buy fresh shelling peas at your farmers market. To serve four people buy three pounds of shelling peas. Get family or friends to help and it will go fast. Save the pods to make the stock. 
The Stock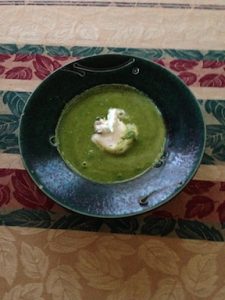 3 Cups roughly cut Pea Shells                                         
1 carrot
1/2 onion
1 Celery stalk
1 1/2 tsp Salt
7 Cups cold water
Put all ingredients together and simmer 45 – 60 minutes. Strain. May be refrigerated for up to a week. Or frozen for 6 months.
The Soup
3 Tbsp. Olive oil
The stock
4 Shallots thinly sliced
3 Pounds peas
1/2 tsp Salt
1/8 tsp White pepper
1/3 Cup whipping cream
1 Tbsp. Finely chopped fresh mint
Whip the cream until it is stiff, folding in the minced mint. Place in a covered container in the refrigerator until ready to serve the soup (lasts four days in the fridge). Place the olive oil in the bottom of a soup pot and sauté the shallots, gently,until light brown, about 4 minutes. Add a half cup stock and simmer for another 5 minutes until soft. Set a 1/2 cup of peas aside, then put the rest of the peas in the pot with enough of the stock to cover them. Bring to a boil and then turn down to simmer, so they are cooked through but still retain their bright green color. Puree them in a blender until the soup is smooth, add the salt and white pepper. Bring a small pot of water to boil and put in the saved peas. Cook until done and still bright green. 
To serve, ladle in the hot soup, scatter a few of the reserved peas around and place a generous dollop of the mint cream. Eat immediately. Ambrosia for the Soul
Serves four, 1 1/2 – 2 Cup servings