What better way to use winter vegetables than this Slavic based recipe for Cabbage Rolls with a vegetarian twist. Lots of the steps in this recipe can be prepped ahead so the assembly can be done quickly. Personally I like to prepare the filling a day or two before to marry all of the flavors.*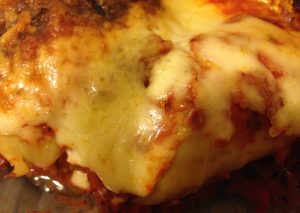 Preheat oven to 350 F.
8 Large outside cabbage leaves
1 Cup cooked quinoa
1/2 Cup cooked millet
1/2 onion chopped small
1 carrot grated
1 Tablespoon olive oil
1/2 teaspoon marjorum
1/2 tsp. basil
4 cloves of garlic minced
Generous grating of nutmeg
1/2 teaspoon salt
1 1/2 Cups tomato sauce (in a pinch I prefer Classico's Tomato Basil Sauce)
1/2 Cup shredded Mozzarella
3/4 Cup shredded Asiago* 
Cabbage Leaf Technique – with a sharp paring knife, gently cut out the core of the cabbage, angling into the center. Pull it out. Gently knock the cabbage on the counter around its circumference to loosed the leaves. Then pull off the outer leaves one by one, being careful not to tear them. Set them aside.
Filling – Place cooked quinoa and millet in a medium sized bowl.  Saute the onion in the olive oil. Just before it gets transparent around the edges add the carrot, marjoram, basil, garlic, and nutmeg. Continue sauté until onion is transparent. Transfer pan ingredients to bowl with quinoa and millet. Add salt and mix well, then add 1/4 Cup of the Asiago. 
Grease a glass 8″ x8″ pan. Pour a 1/2 cup of tomato sauce in the bottom of the pan, spread it evenly across the bottom. In a steamer placed over an inch of water, steam the cabbage leaves, a few at a time, until they are bright green and limp. Place all leaves on a plate. Take one cabbage leaf, cupped side up, and place a spoonful of filling in its center. Fold over the top, then the sides and roll down, so you have a tight cylinder, and place in the the greased pan with sauce. Line up the rolls in neat rows. Pour the rest of the tomato sauce over the rolls. Place in the preheated 350F. oven and bake for a half hour. While they are baking, mix the Mozzarella and Asiago together. After a half hour, pull the rolls out and scatter the cheese over the top. Bake for a half hour longer. Let stand for ten minutes, then serve.
*This recipe can be made vegan if the cheese is omitted. Substitute 1 tablespoon brewers yeast for the cheese in the filling.