PANKO CRUSTED SALMON WITH CUMIN MAYONNAISE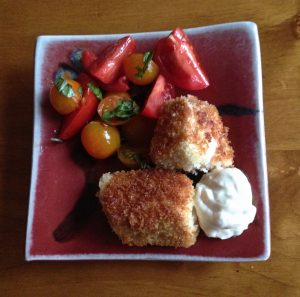 Four six ounce salmon filets, cut into strips about one inch wide
1/2 C. flour
1 C. panko
2 egg whites thinned with 1/4 C. water, whisked to blend
3 Tbsp. olive oil
Place the flour, panko, and egg whites in three separate bowls large enough for dipping salmon strips. Dip in egg whites first then flour. Re-dip in whites, then in panko. The flour gives the panko something to stick to on it's first dip. Place all the panko prepared salmon on a plate.  Heat olive oil until it shimmers. Place salmon into the pan and turn every minute as sides brown. Serve with cumin mayonnaise below:
CUMIN MAYONNAISE
 1/2 C. mayonnaise
1/2 C. non-fat yogurt
1/2 tsp. lemon zest
1 tsp. cumin
1/8th tsp. coriander
A pinch of salt
In a hot, dry sauce pan, toss in the coriander and cumin and stir it around until it starts to get fragrant. About a half minute. Scrape onto a plate to cool.  In a bowl, mix well – mayo, yogurt, zest, and salt, then cooled spices. Let sit for an hour in the refrigerator to marry the flavors. Lasts over a week refrigerated. Good as a a sandwich spread or with a seafood cocktail. 
Salmon pictured is accompanied by quartered tomatoes with basil and balsamic vinegar.