The first night, at the end of our day in New York City, we stayed at the Waldorf Astoria Hotel. My mother and her friend Peg took my younger sister, Nancy, and I to the 1964    Worlds Fair to show us the future.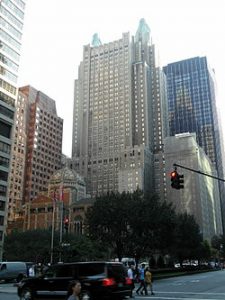 A lavish flower arrangement greeted us on the marble entrance table of the hotel restaurant. I was a princess gliding to my evening repast. In the dining room, high ceilings, white tablecloths, and more utensils than we ever used on our table at Thanksgiving enthralled me. Placing my napkin, the size of my mother's kitchen dishtowel, in my lap, a tuxedo clad waiter handed large menus to the four of us. Nancy put hers on the table. It was too heavy for her to hold.
At ten, I felt old enough to scan the selections and choose what I felt like eating. My fourth grade teacher, Mrs. Jillson had enhanced my reading confidence to a sixth grade level. But my order pales in the events, which followed.
My mother read the selections of the menu to my sister. After a few minutes, Nancy asked if the restaurant had potato chips. When the waiter returned, three of us ordered, and audaciously, my sister, looked pleadingly at my mother.
"My daughter would like a grilled cheese sandwich with potato chips."
The waiter bowed slightly and left. As time passed I regarded the other diners, looked beyond the chandeliers, and delighted in the dancers showcased in the reflected hall mirrors.
Suddenly a large, white, toque figure stood by our table, next to Nancy. It was the Chef of the Waldorf Astoria dining room.
"Are you the little lady who ordered potato chips?"
Nancy, a shy, seven year old, mewed, "Yes."
He bowed to her and left smiling. I saw that smile. I was immediately jealous. It was a prince of this realm granting my sister a special wish!
But I was the princess. I was polite, nicely dressed, well mannered, and knew what I was doing. My sibling rivalry rose up and bit me on the nose.
I don't remember what I ordered. But I remember looking at my sister's plate. Now that I am old, I recognize Brioche. Two large, thickly sliced, delicately browned, Brioche bread slices, oozed yellow cheese. And next to them, next to them, were a mound of golden brown, mandolin sliced, deep fried potato chips.
I 've always wondered what possessed the chef of the Waldorf Astoria in 1964 to be moved by a child's culinary desire.