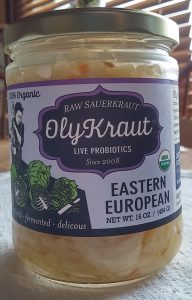 This past weekend, I spent with friends I've known a long, long time. One from college days and another from young adulthood. We met in Olympia, the Capitol of Washington State. Under the flying pig, the Olympia Farmers Market was abloom with crowds.  Everything from fresh shellfish, meats, and poultry, to brimming bins of various varieties of apples and pears was on display. Wild mushrooms fresh and dried, beeswax candles, clothing, and hand blown glass tempted. Processed foods began with bakery goods, followed with jams, jellies, and syrups. And within a display brimming with jars of fermented foods, was OLY KRAUT!
I sampled a rainbow of flavors; Original, Curried, Eastern European, Smoke and Kale, Spicy Garlic as well as fermented sour pickles. 
Using Olympia Farmers market products, Blue Heron Bakery sourdough caraway rye, Jarlsberg cheese, Oly Kraut's Eastern European style sauerkraut, and corned beef we made a Ruben!
Place a pan, with a tight fitting lid, on the stove big enough for two Ruben sandwiches, gently preheating. Lay four slices of caraway rye bread down on paper towels, and spread them on one side with 1Tbls. softened butter mixed with 2 Tbls. olive oil (this is to keep the butter from browning too quickly). Flip them so the dry side is up so you can layer two slices of the caraway rye bread with first, Jarlsberg, then sauerkraut, then thinly sliced corned beef. Place more sauerkraut on top of the corned beef and finish it off with more slices of Jarlsberg cheese.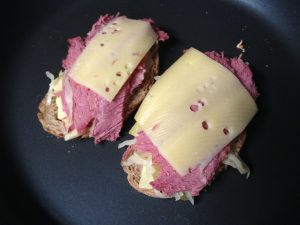 Place them in the preheated pan and put the lid on.  After four to five minutes on medium low, with bottoms nicely browned and cheese melting, lift the lid and put the two leftover buttered rye bread slices on top, dry side in contact with sandwich, buttered side up.  Take two flat spatulas, one under the bottom of the sandwich, the other holding the top bread in place and deftly flip over. Snug the sandwich together with one of the spatulas. A few shreds of sauerkraut escaping is fine. Put on the lid and fry for four to five minutes more. Lift lid and press down firmly on the sandwich with a spatula to smoosh* it together. 
Eat with Thousand Island Dressing or horseradish sauce and Oly Kraut's Sour Pickles on the side.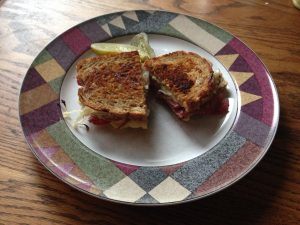 *Thats a PM2 culinary technical term…