Pear, Blue Cheese, Pecan Salad with Salal Berry Vinaigrette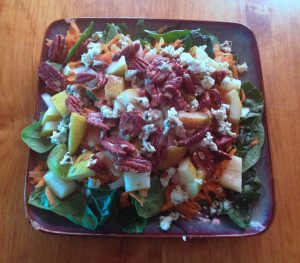 2 semi-ripe pears quartered and sliced
1 Cup pecans toasted in a 350 oven for 10 minutes

1/4 Lb. Oregon Blue Cheese, crumbled

4 C. spinach leaves torn to bite sized
4 C. kale leaves torn to bite sized
1C. shredded carrots
1/2 C. purple onion, thinly sliced
3/4 C. salal berry vinaigrette (recipe in Pantry Pleasures)
Mix the spinach and kale leaves together with the shredded carrots. Toss with the salal berry vinaigrette. Portion out evenly to four dinner plates. Next lay on the purple onion slices and pears to each salad. sprinkle the blue cheese crumbles and lastly, toasted pecans.
Garnish with grilled chicken or hard boiled eggs if you wish it to be a main dish for omnivores.
   
Serves four generously.