CARROT PEANUT BUTTER SOUP    
Rich and creamy, indulgent, full of antioxidants, protein, and beta carotene. Garnished with chives for a contrasting accent and deepening of flavor.
2 Tbsp. olive oil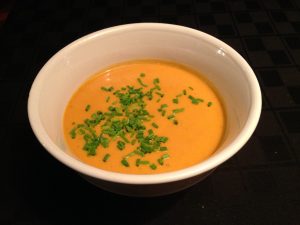 4 C. sliced carrots
1 onion chopped
2 cloves garlic chopped course
½ tsp. salt
4 C. stock total (Imagine Organic Vegetable "Chicken" stock works well)
1/3 C. peanut butter
3 Tbsp. Worcestershire Sauce
1 Tbsp. maple syrup
¼ C. chopped chives or green onions
Sauté onions + garlic in oil, add chopped carrots, salt and 3 C. vegetable stock. Cook until carrots are soft.
Meanwhile nuke: 1C. vegetable stock, 1/3 C. Peanut Butter, 3 T Worcestershire Sauce, 1 Tbsp. maple syrup. Stir slowly, until it's silky and mixed. Add to soften carrots and onion goop in the pan and cook 15 minutes more slowly stirring occasionally. Use water to thin if too thick.
Blenderize the pan contents until smooth and pour into a clean sauce pan, keep hot. Serve with chopped chives or sliced green onion bits on top. Six 10 oz. servings